Cool Waves Ranch and Waterpark Resort is located in Bulakan, Bulacan. This is located just in the midst of rice fields and provides 2 gargantuan wave pools. Cool Waves Ranch and Waterpark Resort also has a "raging river" that stretched to 150 meters. They have also introduced a lot of extra activities like helmet diving and a fish spa to give you more fun and enjoyment. The slide tower will also give you exhilaration and more excitement – for the young and the feeling young.
Their pools are quite amazing and offer a great deal of enjoyment. The kiddie play pool will be a favorite for kids – and this is the place where they should be. The rooms are very clean and will give you a pristine good night sleep. This is one of the top resorts in Bulacan.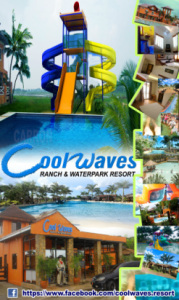 Here in Cool Waves Ranch and Waterpark Resort , they encourage only that you focus on relaxation and fun. It's not only during the summer that they find time to make you do that, it goes around every year, on every holiday of the year. They have been in the series of serving the people, not only in Bulacan, but they have become very famous all around the metro. They host family occasions and big celebrations with their pavilions, gardens and seminar rooms. These big event center will also cater to business meeting and conferences.
These resort also serves very affordable rates – they offer Kubo and cottages for their visitors as well as hotel like service for their overnight staying visitors.
Cool Waves Ranch and Waterpark Resort Features
Helmet Diving And Fish Spa
Air conditioned Rooms for accommodations
Nipa Hut Cottages for the day trippers
Raging River 150 meters of enjoyment
Fishing Activities
Pavilion and seminar rooms for business and big events
Wave pools with tall slide towers
Accommodations
Daytime: 8:00 AM to 5:00 PM
Night Time: 6:00 PM to 2:00 AM
Overnight: 6: 00 PM to 7:00 AM
Entrance Fee
Php180.00 for Daytime swimming
Php210.00 for Night time swimming
Php250.00 for Overnight swimming
Cool Waves Ranch and Waterpark Resort COTTAGES AND ROOM RATES
OPEN COTTAGES Daytime / Overnight available at  Php 400.00
KUBO  Day time at Php 800.00 /  Overnight P 1,300.00
BAHAY KUBO  Daytime Php 1,000.00  /  Overnight Php 1,500.00
AIR-CONDITIONED ROOMS (Daytime 8 AM to 5 PM ; Overnight 6 PM to 7 AM)
ROOM 3 -7 (4 pax sharing ) Daytime P 2,000.00  / Overnight P 2,500.00
Room 1 & 2, VIOLET , BLUE , Daytime P 2,000.00
GREEN ROOM (4 pax sharing )  Daytime P 2,500.00  / Overnight P3,000
VILLA A and B (6 -8 pax ) Daytime P 3,000.00 / Overnight P 3,500.00
SPA ( 8-10 pax) Daytime P 4,000.00 / Overnight P 4,500.00
ATTIC ROOM ( 6 pax ) DaytimeP 2,000.00 / Overnight P 2,500.00
ATTIC ORANGE & ATTIC YELLOW Daytime P 4,000.00 /  Overnight P 4,500.00
ATTIC HOUSE ( 10-12 pax ): Daytime P 45000 /  Overnight P 4,500.00
PAVILLION WAVE POOL ( 60 pax ) Daytime / Overnight P 7,500.00
PAVILLION RAGING (30 pax ) Daytime / Overnight P 4,500.00
CLUBHOUSE ( 200 pax ) Daytime / Overnight P 10,000.00
AMENITIES: 
Fish Spa for 15 minutes:  P100.00
Fishing for an hour:  P150.00
Helmet Diving for 15 minutes:  P200.00
Horseback Riding for 1 hour:  P50.00
OTHER CHARGES
EXTRA BED : P300.00 for double and P200.00 for single
Corkage for alcoholic drinks :
Small Bottle: P50.00
Big Bottle ( 1 liter ) :  P75.00
P150.00 per case of beer
P100 for appliance
Contact Cool Waves Ranch and Water Park Resort
Address:  Brgy. San Nicolas Bulakan, Bulacan
Contact Person:
Telephone Numbers: :  044-792-2870 ; 02-404-48-75
Mobile Phone Numbers:  0949-732-64-41 ; 0915-703-26-89 ;  0923-705-99-47
Email:  coolwavesresorts@yahoo.com
Website:  http://www.coolwavesresorts.net/